14 October 2015
FISITA World Automotive Summit to be held in London, 11-12 November 2015
Exclusive annual meeting of automotive industry technical executives
Focusing on personal mobility and the impact on the automotive industry
The 6th annual FISITA World Automotive Summit to be held in London, U.K., from 11-12 November 2015 will see automotive industry technical leaders from around the world meet to discuss the future of personal mobility and its impact on the industry.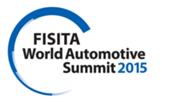 Through a programme of workshops, panel discussions and keynote presentations, technical experts from the FISITA Honorary Committee will meet with scientists, academics, public policy makers and NGOs to progress thinking and their approach to the challenges faced by the international motor industry in the development and transition towards the mobility solutions of the future.
Chris Mason, FISITA CEO, said, "Modern societies rely on personal mobility, with specific needs around the world which are different and forever changing. Alternative mobility solutions and business models are therefore required which deliver against this changing landscape, meet with the demands of society and regulators, while ensuring customer acceptance is achieved with each stage of technological development delivered to the retail marketplace. The FISITA Summit is an important conference for auto industry technical leaders as it provides a unique, high-level forum for knowledge exchange, proactive problem solving, and professional networking."
The FISITA Summit will feature keynote presentations from Joe Greenwell, CEO of the Automotive Investment Organisation (AIO) and Prof. Frank Piller, Technology and Innovation Manager at RWTH Aachen University and co-director of the MIT Smart Customization Group at the MIT Media Lab, USA.
Since its launch in 2009, the FISITA Summit has focussed on topics such as environment, vehicle autonomy, traffic accidents, mobility in megacities, international road transportation and reducing CO2 emissions. The 2015 FISITA World Automotive Summit will be held at the Double Tree by Hilton Hotel and the Tower of London from Wednesday 11 November – Thursday 12 November 2015.
Full details of the FISITA Summit including the programme of speakers are available at www.fisita-summit.com