As FISITA works to promote excellence and diversity in the advancement of automotive mobility systems engineering and associated technologies, we are committed in our support of 'Women in Engineering' campaigns and member activities.
Only 9% of the engineering workforce in the UK are female - we want this to change. Through celebrating the achievements of Women in Engineering we aspire to raise the profile and awareness of women in STEM and inspire future generations to persue a career in this exciting and rapidly evolving landscape.
Feel free to contact me if you have any questions or would like to contribute a story to this area.
Kelly Williams
Share your storyDirector of Member Services
Email: k.williams@fisita.com
Tel: +44 (0)1279 883 472
International Women in Engineering Day (INWED)
Set up in 2014 by FISITA Strategic Partner the Women's Engineering Society (WES),  INWED was established to raise awareness of the fantastic career opportunities in engineering and to celebrate the achievements of women engineers.
 A key subtheme for INWED17 is 'men as allies'. While the key aim of the initiative is to celebrate women in engineering, WES believes that to achieve real diversity and equality, we must strive to remove all barriers. Watch the short video below of FISITA CEO, Chris Mason explaining how FISITA supports diversity and the importance of women in engineering.
To celebrate INWED17 we published a special edition of Inside Track featuring exclusive articles written by female engineers and a feature in our YFIA newsletter focusing on female students views on engineering. You can read the articles below.
 It's great to be a woman in automotive engineering
By Saskia Monsma D.Sc (Tech)
Research Associate and Senior Lecturer, HAN Automotive | HAN University of Applied Sciences, The Netherlands 
"To start with an understatement; being a woman in automotive engineering is great. Despite not being very practical, my interest in what I later found out was called 'science and engineering', was raised by my brother's example and inspired me in my future engineering career. "

Click here to read Saskia's full article.
 My journey in engineering and advice to female engineers
By Sarah Haslam
C520 and V408 PVT Manager, Ford Motor Company, Spain
"There are lots of diverse engineering roles in the design and manufacture of vehicles and very few these days require you to get your hands dirty!  They all give a positive feeling and sense of contribution and, if I can give that insight to young girls, that's good."
Click here to read Sarah's full article.
#9PercentIsNotEnough
By Jodie Howlett
Undergraduate Integrated Master's Mechanical Engineering Student, Sheffield Hallam University | Manufacturing Engineer Intern, Rolls-Royce
"As a Mechanical Engineering student, I have already enjoyed many exciting opportunities that have allowed me to gain invaluable experience. From interning at Rolls-Royce and Siemens, to gaining two scholarships totalling £14,000; my early career in engineering is proving to be more interesting and rewarding than I could ever have imagined. However, I am one of a minority of women that choose engineering as a career."
Click here to read Jodie's full article.
Being a female engineer at Jaguar Land Rover
By Lucia Perea del Olmo
Environmental Test Engineer, Jaguar Land Rover
"My main piece of advice for aspiring young engineers? Do not let anyone tell you that you aren't good enough to be an engineer. Don't lose motivation because someone says 'engineering isn't for girls'."
Click here to read Lucia's full article.
Women leaders are reshaping General Motors
Over in the United States, a recent article in the Detroit Free Press highlights how a generation of women leaders are reshaping General Motors – a Corporate Member of FISITA.
GM's Mary Barra became the first woman to be appointed Chair and CEO of a global manufacturer. The article highlights that she is "part of a generation of women leaders reshaping General Motors from the plant floor to the C-suite, jobs historically denied to them in the male-dominated auto industry".
Click here to read the full article.
One step at a time!
By Adina Sorostinean
Master's in Mobility and Electric Vehicles student, Arts et Métiers ParisTech, France

"People are driven by stereotypes and even if it doesn't seem obvious the fight for gender equality is far from being over. You might find yourself referred to as the pretty one or advised to buy a 'women's car'. I know I had. But I also know that one day we will get there: one female engineer at a time! "
Click here to read Adina's full article.
We need more women in engineering
By Prof. Harry Watson
Professor, University of Melbourne, Australia
"Getting women into engineering begins by changing attitudes at school and home. School visits, and unprecedented opportunities worked in the past. Maybe some of the ideas here can be used again. "
Click here to read Harry's Watson full article.
 Life as an engineering student in Hong Kong
By Oi Man Leung
Mechanical Engineering Student, Hong Kong University of Science and Technology, Hong Kong

"Although engineering had never been on my mind during my childhood, growing up in a buzzing, cosmopolitan city like Hong Kong meant that technology would always be constantly revolving around me."
Click here to read Oi Man's full article.
We would like to see greater participation by women
By The Society of Automotive Engineers of Japan (JSAE)
"We expect that an increase in the number of JSAE female members would make it possible to incorporate the fresh perspectives of women, invigorate the Society, and lead to advances in automotive engineering as a whole."
Click here to read the full article.
Why are there fewer women in engineering?
By Meenakshi Rajamani
Automotive Engineer, Intel Corporation, UK
"Children at a young age need to be exposed to the basics of engineering to understand what 'engineering' really is. 40 years ago, engineering meant building bridges and houses. A decade later, it was all about the greasy engines and motors. Now, engineering is much more than that."
Click here to read Meenakshi's full article.
Use every possible opportunity
By Olga Merzliakova
Mechanical Engineering Master's student, Moscow Polytech, Russia
"The main rule of my life is use every possible opportunity; take part in competitions, internships and events to showcase your skills. If something is going wrong, don't get upset and don't give up, because it would be worse if you hadn't even tried."
Click here to read Olga's full article.
Building professional careers for women engineers in India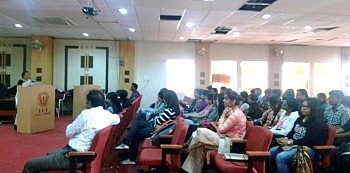 On 20th February 2017 our colleagues at SAEINDIAdelivered the Eminent Speaker Series Lecture on "Building Professional Careers for Women Engineers" at the Institute of Engineering and Technology, DAVV, Indore.
Rashmi Urdhwareshe, Director at Automotive Research Association of India (ARIA) delivered an engaging speech at the event which was attended by women engineers and engineering students and academics who gained valuable insight on how to progress their careers in engineering.
Rashmi took over as Director at ARAI on 1st July 2014.  Before taking over this senior position, she has built a career that spans over 30 years at ARAI.  Having graduated in 1981 from VRCE, Nagpur, she has completed Masters in Electronics Engineering from COEP, Pune and obtained a Diploma in Corporate Directorship from WCCG (World Council for Corporate Governance).