16 May 2018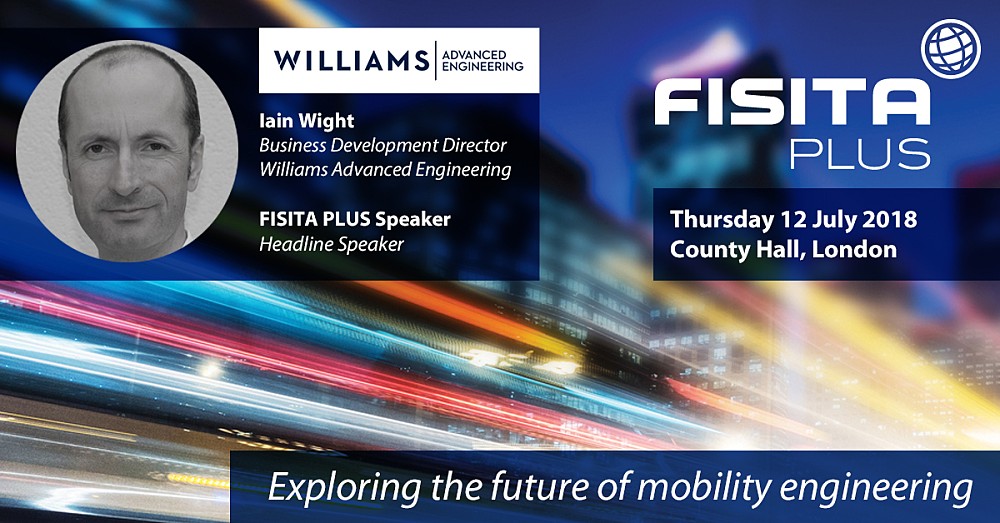 FISITA, the international membership organisation for the automotive and mobility systems engineering profession, today announces the complete speaker line-up for its FISITA PLUS conference, with Iain Wight, Business Development Director at Williams Advanced Engineering confirmed as the Headline Speaker.
As part of the headline session, Iain will speak with delegates about Williams Advanced Engineering's world class technical innovation, engineering, testing, manufacturing and operational consultancy services.
Chris Mason, FISITA CEO, said: "We're thrilled to conclude the international FISITA PLUS speaker line-up with Iain Wight as the special Headline Speaker, who will bring a wealth of experience and technical expertise to our one-day conference. Having recently been presented the Queen's Award for Enterprise in Innovation, it will be fantastic to hear how Williams Advanced Engineering is contributing to the fantastic developments in our fast-moving industry."
Iain's presentation will be the conclusion to FISITA PLUS, which includes an international speaker line-up from a mix of the world's automotive, mobility and technology companies at County Hall in London. The day will be split into three sessions, led by guest curators from Bosch, HORIBA MIRA and the University of Bath – the full speaker line-up includes:
Dan Hubert, CEO, Appy Parking
Robin North, CEO, Immense Simulations
Jiayu Wu, Senior Research Fellow, Intelligent Mobility Design Centre, Royal College of Arts
Stefan Deix, Director, EUCAR
Ami Dotan, CEO, Karamba Security
Tom Westendorp, Senior Business Development Manager, Autonomous Driving, NVIDIA
Dr. Hermann Pengg, CEO, Audi E-gas
David Greenwood, Professor of Advanced Propulsion Systems, Warwick University
Richard Pearson, Technical Advisor, Automotive Engineering, BP International
NIO Vice President Charlie Zhang will be the special guest taking part in the Leadership Interview, hosted by Paul Mascarenas, Ford's former CTO and current independent director, business advisor and technology executive.
Registration for FISITA PLUS is open and tickets can be purchased at www.fisita.com/fisitaplus. Further information is available by emailing fisitaplus@fisita.com.
FISITA is also offering an exclusive opportunity for select companies to be part of this event and has created a number exhibition, sponsorship and advertising opportunities to generate valuable brand placement visibility – find out more here.