11 April 2017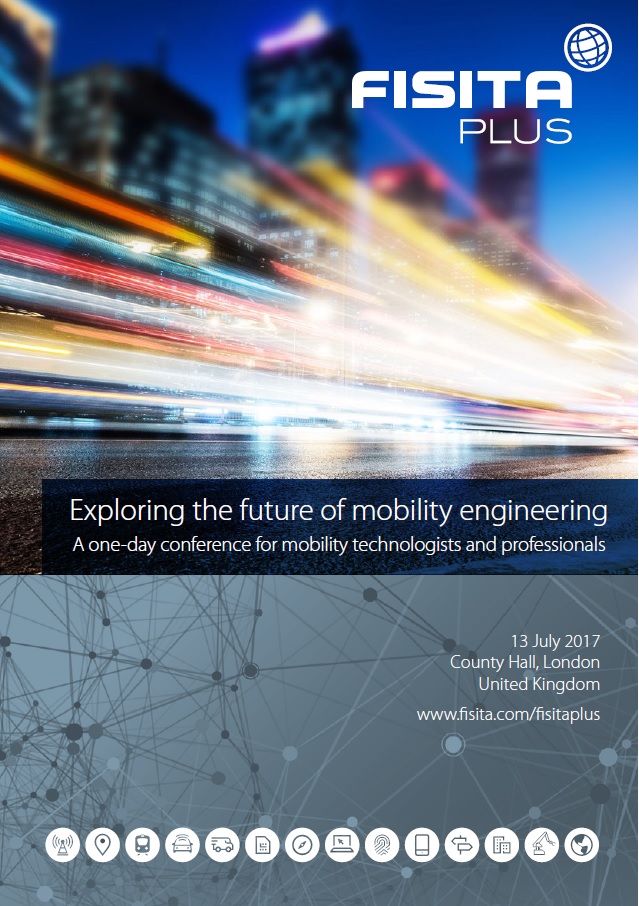 FISITA, the international federation for the automotive mobility engineering profession, today publishes the Preliminary Programme for FISITA PLUS – a new one day conference for mobility technologist and professionals.
Created to support this engineering generation's development of safe, sustainable and affordable mobility, FISITA PLUS takes place on Thursday 13 July and will feature guest speakers delivering their 'real-world' perspective on future mobility, at County Hall in London.
FISITA will welcome a prestigious presenter line-up from some of the world's leading mobility companies including FEV, Ford, General Motors, Groupe Renault, Shell, TATA Motors, Toyota and Transport for London.
The Preliminary Programme features the latest important information about FISITA PLUS, including:
Welcome message from FISITA President and CEO
Confirmed programme and speaker line-up
Focus on the Leadership Interview
Venue information
Commercial opportunities
Chris Mason, FISITA CEO, said: "I am delighted to publish the Preliminary Programme for FISITA PLUS, which showcases our fantastic speaker line-up, featuring some of the world's leading and recognisable technologists.
"Whether you are a senior industry technologist, engineer, communicator, strategist or academic, FISITA PLUS offers the ideal platform to develop your knowledge, business capability and position within the emerging, international mobility systems landscape. We look forward to welcoming delegates to FISITA PLUS where we'll be exploring the future of mobility engineering."
The conference will be split into three sections and speakers will present under three headings: The Mobility Future; Artificial Intelligence and Mobility Technology and Propulsion of the Future.
The Leadership Interview hosted by Paul Mascarenas will be the centre-piece of the conference, featuring Ford's former Chief Technology Officer and current independent director, business advisor and technology executive, in discussion with Jon Lauckner, Chief Technology Officer and VP of R&D at General Motors.
The day's technology focus will culminate with a headline speech by a leading international figure from one of the world's most recognised and aspirational brands, which will be announced soon.
Registration is now open and tickets can be purchased at www.fisita.com/fisitaplus. The Preliminary Programme is available to download on the FISITA PLUS website here.