Turo Tiililä
Chairman of the Board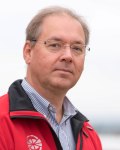 Turo Tiililä was born in 1966 in Kemijärvi, Finland. He has a Batchelor's degree in automotive engineering from Helsinki Polytechnic. In 1993, Turo founded a company called Test Center Tiililä Oy which specialized in vehicle testing. He also taught at the Helsinki Polytechnic in 1993-2006. In 1997, Turo founded Patronics Oy which designs and manufactures electronic measuring devices. Along with a corporate aqcuisition in 2011, Turo transferred to A-Katsastus Oy which is a leading Northern European company offering vehicle inspection and registration services, driving examinations as well as vehicle testing services and damage inspection, and he was appointed Managing Director of A-Test & Consulting Oy, an A-Katsastus group company selling testing services. He was also in charge of A-Katsastus group product development as well as a member of the management team. Due to a management buyout in 2011, Turo became the Chairman of the Board of Directors of Test World Oy. In 2015, he also became the Chairman of the Association of Automotive Technical Societies in Finland (SATL).
Spotlight on Test World Oy
Test World specialise in vehicle and tyre testing, as well as product testing and type approvals. Its two proving grounds and headquarters are located in Ivalo, with type approvals staff based in Helsinki.
Test World has two separate main testing areas, Mellatracks and Airport. Both can be further divided into three units, which facilitate the independent, safe operation of several test teams.
Tyre testing is carried out under winter and summer conditions and its test selection covers all tyre tests in general use. Test World Indoors is the world's first indoor vehicle and tyre-testing facility designed for year-round use.
Test World Indoors allows testing in a controlled environment, which brings cost savings for their clients. The required tests can be carried out according to a planned schedule and under specified conditions, without the temperature, wind or rain changing during testing. The test facility is fully insulated and air-conditioned, and it allows independent regulation of air and floor temperatures.
Test World is part of Millbrook Group
Millbrook provides vehicle test, validation and engineering services to customers in the automotive, transport, petrochemical, defence and security industries. It is independent and impartial in everything it does.
At its Proving Ground in the UK, Millbrook has 70km of varied test tracks, including hill routes, high speed areas and challenging off road courses. Its professional drivers and engineers perform repeatable tests on all types of vehicles in a secure and safe environment. It has a range of test facilities for components and full vehicles. These include engine dynamometers, environmental chambers, crash laboratory and advanced emissions chassis dynamometers.